Cancellation and Refund Policy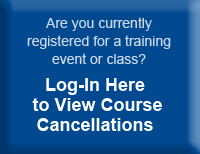 Face-to-face trainings and online Eager-to-Learn, instructor-facilitated trainings will be canceled if:
• Fewer than 6 participants are registered one week prior to the
&nbsp training start date
• Threatening weather is predicted
Online self-study classes will not be cancelled due to low registration or weather.
Registration & Payment
Registration and payment are required for all classes. Online registration must be paid by credit card. Mail-in registration must accompany check or money order. Make checks payable to Child Care Aware® of North Dakota. No phone registration accepted.

Only paid participants will have a space reserved for them in class and receive a training certificate.

Class sizes may be limited. Mail-in registrations are processed in the order they are received. Online registrations occur in real time.

Classes with low registration one week prior to the class date will be cancelled. Refund coupons will be issued if Child Care Aware® of North Dakota cancels the class.
Weather Related Policy
Child Care Aware® of North Dakota will cancel a scheduled training when the weather is threatening. Log-in to view cancellations.
Cancellations will be updated as late as one hour before the class is scheduled to begin. Every effort will be made to reschedule the training. If no acceptable date can be found, refund coupons will be issued.
Refund Policy 
Child Care Aware® will not issue refunds unless a course is cancelled due to weather or low registration. Refund coupons will be issued for the course fee to people who have registered and prepaid for the cancelled course. The coupons can be used to pay for all or part of any other course sponsored by Child Care Aware®. Simply attach the coupon to your registration form when you register for another course.