Become a Child Care Aware® of North Dakota Trainer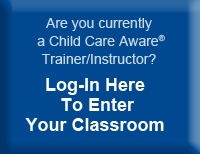 Child Care Aware® trainers help the early childhood workforce develop knowledge and skills on a variety of topics related to ND Core Competencies and ND Early Learning Guidelines. Contact your local Child Care Aware® of North Dakota Training Division if:
• You are an experienced early childhood professional who has valuable   information to share with others.
• You enjoy talking with people and helping others learn.
• You want to improve the health, safety and learning opportunities in child care environments.
Steps to Become a Child Care Aware® Trainer
Child Care Aware® trainers must have demonstrated knowledge in a topic related to early childhood learning, health or other Core Competency topics. They must have good communication skills and the ability to work with a diverse group of adult learners.

Trainer Application and Interview

Submit completed Trainer Application Form. If approved, your application will be held on file until interviews are scheduled in your area. Trainers will be selected based on qualifications, geographic needs, and content of training needed.

Trainer Interveiws

Prospective trainers are interviewed on an as needed basis. During these interviews, prospective trainers are asked to conduct a 10-minute mini training to demonstrate their skills

Begin Your Work as a Child Care Aware® of North Dakota Trainer

Trainers are contracted on an as needed basis to provide trainings in a variety of formats:
• Face-to-face trainings on evening or weekends.
• Writing online Easy Reach trainings
• Conducting online Eager-to-Learn trainings.

Training Evaluations

Trainers are evaluated on a regular basis to ensure that the information they present is current and supports best practices. Trainers are asked to complete a mentorship with an experienced Child Care Aware® trainer before presenting on their own.