Search and Register for Training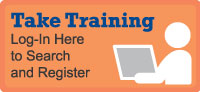 Participants have the option to complete their training through EasyReach and Eager to Learn online courses or through face-to-face trainings and signature events.
To register for training courses you must first visit the Child Care Aware® of North Dakota Training Center to set up your training account.
Check Out These Training Opportunities
Child Care Aware® of North Dakota offers a variety of online and face-to-face training opportunities.
spacer
Payment Policy
Registration and payment are required for all classes. Online registration must be paid by credit card. Mail-in registration must accompany check or money order. Make checks payable to Child Care Aware® of North Dakota. No phone registration accepted.
Only paid participants will have a space reserved for them in class and receive handouts, course materials and training credit certificates..
Class sizes may be limited. Mail-in registrations are processed in the order they are received. Online registrations occur in real time.
Classes with low registration one week prior to the class date will be cancelled. Refund coupons will be issued if Child Care Aware® of North Dakota cancels the class.
Registering a group or paying by check?
Print a registration form if you wish to register multiple people or want to pay by check or money order. Complete the registration form and return it with payment to the Child Care Aware® location listed.
Please note that registrations made online with credit card or e-payment will be processed first.
Registration Policy
Registrations for all Eager-to-Learn, instructor-facilitated training sessions close 14 days prior to the first class chat session. The session will no longer appear online in the training calendar and online registration with credit card payment will not be accepted after the registration period closes.
Late Registrations
Late registrations are sometimes accepted after the cut-off date. Acceptance is at the discretion of the Child Care Aware® of North Dakota Professional Development Specialists. Late registration requires payment by check and a late fee may be assessed.