Eager-to-Learn Online Training
Eager-to-Learn courses combine the convenience of online learning with the advantage of student/instructor feedback and interaction.
Instructor facilitated training is delivered online in multiple sessions over a series of weeks. Between sessions, the instructor and students network and discuss training topics through online chat sessions and message board posts. Weekly "reflection assignments" are used to enhance learning and help participants think about ways to put their training into practice.
Child Care Aware® of North Dakota courses are delivered through a partnership with the Minnesota Eager-to-Learn Network.
Is Online Learning Right for You?
Taking this short true/false survey will help you determine if online training is right for you.
Search and Register for an Eager-to-Learn Course
• Go to the Child Care Aware® of North Dakota Training Center.
• Click on Search for Training link
• Choose "Online" then checkmark "Eager-to-Learn" from the Training Delivery Method drop down menu. Click Search.
• Review course offering and complete steps to register for a class.
• You will receive additional information via email one to two weeks before your class begins..
• Eager-to-Learn courses begin approximately one week before the initial chat session.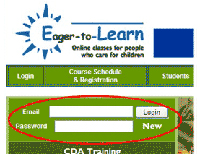 How to Log In and Attend Your Course
• Set up your Eager-to-Learn account, if not already set up
• Go to the Eager-to-Learn website.
• Look for the log-in area in the upper left corner of the page.
• Enter your e-mail and password
• Click "Login."
• Once logged in, click on the course name to access.
Contact your local Child Care Aware® location for more information.