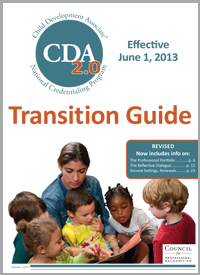 The CDA credentialing process will change effective June 1, 2013. Highlights of this new process include:
The five-year limit on the 120 training hours will be removed. Any training or education taken by Candidates, at any point in their career, which falls within the required Eight Subject Areas, will be considered eligible.
The five-year limit on the 480 hours of experience working with young children will be reduced to three years. This change is being made to ensure that work experience was completed more recently, thus helping the Candidate to be better able to pass the new CDA Exam and Direct Observation.
Transcripts and/or Certificates of Training will no longer be sent to the Council for review. In the new model, the CDA Professional Development Specialist will review these documents as part of the Verification Visit.
In the new model, Direct Observations will be performed by the CDA Professional Development Specialist during the Verification Visit rather than by an Advisor prior to application, as is currently practiced.
CDA Professional Development Specialists will be chosen by the Candidate via a new online National Directory or by personal choice, rather than being assigned by the Council.