Basic Child Care Training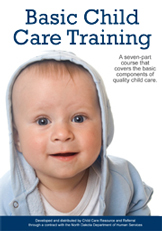 The North Department of Human Services requires that all newly licensed family and group providers complete Basic Child Care Training within the first three months of licensure. Center, group, and family staff members are required to complete Basic Child Care Training within the first three months of hire.
What you'll learn
The Department of Human Services along with licensers and other early childhood specialists carefully considered the core knowledge that every child care practitioner needs for a good start. Throughout the training you'll learn about best practices for health and safety, how to set up an effective child care environment plus other topics that will help you succeed and thrive while working in the child care field.
This Basic Child Care Training is comprised of seven courses totaling 12 clock hours. Participants must successfully complete all seven courses to fulfill state training requirements.
| | | |
| --- | --- | --- |
| Course | Course Description | Hours |
| Safe Practices and Policies | Explore general safety guidelines for all children as well as ways to meet the developmental needs of infants and toddlers. | 1.5 |
| Healthy Practices | Learn simple things you can do to make your child care setting a healthier place. | 1.5 |
| Illness Prevention and Management | Discover what policies and procedures are needed to prevent and manage infectious disease in a child care setting. | 1.5 |
| Food and Nutrition | Learn how nutritious meals and snacks can support the development of healthy eating habits in young children. | 1.5 |
| Elements of an Effective Environment | Discover what key elements in an effective child care environment can help children feel welcome and encourage them to explore and learn. | 2.0 |
| Getting in Tune | Learn how to form sensitive and responsive relationships that support a child's learning and development. | 2.0 |
| Mandated Reporting | Identify why, what, where, and when to report suspected child maltreatment. | 2.0 |
Training Delivery Options
The Basic Child Care Training courses are available in two formats:
Easy Reach Online Training

The EasyReach option offers convenient 24/7 access to training. You can register, view the course, download materials, complete the learning reviews and receive instant verification that you've completed the course successfully all online. Visit the Child Care Aware® of North Dakota Training Center to use this option.

Training Delivered on DVD

This option delivers course content via DVD for those without internet access. Course materials and reviews are delivered and returned by mail. Successful completion of the course is determined after materials have been returned and reviewed. Contact your local Child Care Aware® office to order materials.
View and download center staff training handouts
View and download family and group provider training handouts