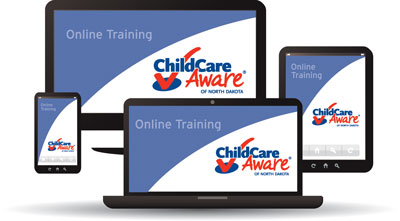 Child Care Aware online training site will close temporarily on June 1st to prepare for a new & improved learning experience.
Get Ready to Love It!

New Online Training Launches on July 5th
Child Care Aware of North Dakota is launching this online training platform in conjunction with the new, redesigned Growing Futures Registry. Starting July 5th, you can look forward to new courses and enhanced features that will support your training needs from entry into the field through all stages of your career.
Interactive, engaging training. One-stop access to all the training you need to meet licensing requirements and advance on the Growing Futures Career Pathways.
New e-learning options. The old online EasyReach is going away. Engaging e-learning courses that meet standards for license renewal as well as career advancement, national credentialing, and participation in Bright & Early are on their way.
More interesting content and learning experiences. More video, better visuals, more ways to explore content, plus built-in demonstrations to help you understand and apply the concepts.
Access from multiple devices. You will be able to access training wherever and whenever you want - at home on your computer, or on-the-go with your smart phone or tablet.
Fast! No more waiting for the training presentation to load. The new Child Care Aware of North Dakota e-learning platform incorporates the latest e-learning technology to keep you ahead of the curve.
Here's what you need to do now to prepare for the launch of this new site.
Complete your Basic Child Care training. These courses are being redesigned. If you have completed some, but not all of the courses in the Basic Child Care training series prior to June 1st, you will need to start all over with the revised version in the new system.
Complete all trainings you have registered for, but not yet completed before June 1 to get credit for the courses. NOTE: Easy Reach courses will not be available in the new system.
Complete Growing Futures applications and requests. No new membership applications, trainer or training approvals or updates to Career Pathways will be accepted between June 1 - July 5, 2016.
Click here to complete courses via the current training site.
View the Frequently Asked Questions page to learn more.