Core Competencies Define Quality Care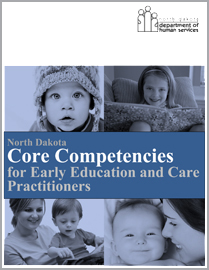 North Dakota Core Competencies are research-based guidelines that define expectations for those who teach and care for children from birth through eight years old. These guidelines also help parents, communities and policy leaders make informed decisions about early childhood programs and care.
A "Road Map" to Advance Workforce Skills
Each of the eight competency areas has five levels. These levels define a range of skills and knowledge from the beginning practitioner to the professional who holds an advanced degree in early care and education. Child care providers, teachers and all who work with young children can use these guidelines as a "road map" to assess their skills, create a professional development plan, advance their career and improve job satisfaction.
Review the Core Competencies Overview to learn more.
ND Core Competencies & Outcomes
Understand how children acquire language and develop physically, cognitively, emotionally and socially.

Establish an environment that provides learning experiences to meet each child's needs, capabilities, and interests.

Observe and assess what children know and can do in order to provide curriculum and instruction that addresses their developmental and learning needs.

Establish supportive relationships with children and guide them as individuals and as part of a group.

Work collaboratively with families and agencies/organizations to meet children's needs and to encourage the community's involvement with early childhood education and care.

Establish and maintain an environment that ensures children's health, safety and nourishment.

Establish, implement, evaluate, and enhance operation of an early childhood education and care program

Serve children and families in a professional manner and participate in the community as a representative of early childhood education and care.
---