Program and Business Administration Scales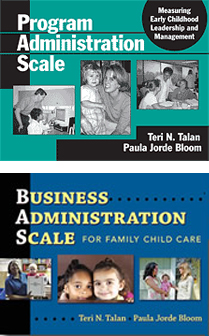 The Program Administration Scale (PAS) and Business Administrative Scales (BAS) provide a reliable and easy-to-administer tool for measuring the overall quality of administrative practices of early care and education programs.
The PAS assesses quality in ten areas in child care centers: human resources development, personnel cost and allocation, center operations, child assessment, fiscal management, program planning and evaluation, family partnerships, marketing and public relations, technology, and staff qualifications.
The BAS measures quality in ten areas in Family and Group child care settings: qualifications and professional development, income and benefits, work environment, fiscal management, recordkeeping, risk management, provider parent communication, community resources, marketing and public relations, and where applicable, the provider as employer.
All items are presented as a 7 point scale with descriptions of what is required under 1 (inadequate), 3 (minimal), 5 (good), and 7 (excellent). Early childhood programs often say that their program is "good" because the parents and staff are happy, but this point does not necessarily ensure solid administration practices and longevity of an early childhood program. Research has consistently found that overall administrative practices are crucial for ensuring high-quality outcomes for children and families (Bloom, 1989, 1996a).
Designed for center administrators or family child care providers, researchers, monitoring personnel, and quality enhancement facilitators, the PAS and BAS were constructed to complement the widely used Environment Rating Scales designed by Harms, Clifford, and Cryer. Both measure quality on a 7-point scale and both generate a profile to guide program improvement efforts. If used together, these instruments provide a focused look at best practices. (McCormick Center for Early Childhood Leadership, 2011)
Click on links below to learn more about these professional tools:

The Program Administration Scale (PAS) for center child care settings.
The Business Administration Scale (BAS) for family child care settings.