Health & Safety Resources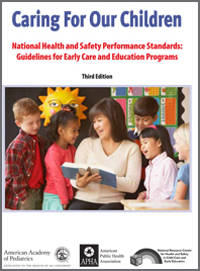 Protecting the health and well-being of children, staff, and families is an important component of a child care program. CCR&R Chld Care Health Consultants provide information and training on a variety of topics to help child care providers create and maintain a healthy environment for the children in their care.
Caring for Our Children s a recomended resource that describes best practices, developments and evaluations of the health and safety of children in all types of early care and education settings. It was developed through the collaborative efforts of the American Academy of Pediatics, the American Public Health Association, and the National Resource Center for Health and Safety in Chlidcare and Early Education.
Click on links to key health and safety resources below. You can also search and register for additional health and safety trainings by visiting the ND CCR&R Training Center. Contact your regional CCR&R Child Care Health Consultant if you have specific questions and or need additional information.