Starting a Licensed Child Care Facility
Launching a child care facility is more complex than opening an in-home family or group child care. It takes an average of 9 to 12 months to organize and prepare a facility for opening. Child Care Aware&reg of North Dakota consultants have the expertise and resources to guide you through the process.
The steps to starting a child care facility are outlined in the Child Care Facility Development Guide. This guide will help you:
• Develop an understanding of the child care industry
• Define the scope of the project
• Test the market need for child care
• Locate a site/building
• Determine facility design and furnishings
• Plan room furnishings
• Assemble a qualified project team
• Plan operational and start-up budgets
• Complete a business plan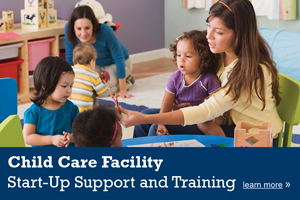 Contact a Provider Support & Start-Up Consultant in your region to receive additional information and guidance related to your specific location, child care setting and business goals.
Review these resouces to learn more:
This webinar outlines new guidelines that allow group providers to care for up to 30 children in their home or non-residential facility.
---