About Us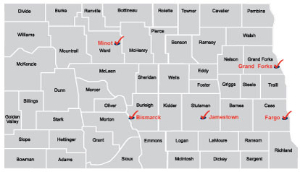 Child Care Aware®, formerly Child Care Resource & Referral, began serving North Dakota in 1989.
Services are delivered by Lutheran Social Services of North Dakota from offices in Bismarck, Fargo, Grand Forks, Jamestown and Minot. Child Care Aware® of North Dakota receives funding from the North Dakota Department of Human Services, foundations and local civic groups.
Our Services
Help families search for child care
Child Care Aware&reg maintains North Dakota's only comprehensive statewide database of child care options, including family and group care providers, child care centers and school age programs. Services to families include:
Build the knowledge and skillls of child care providers
Courses offered through Child Care Aware&reg of North Dakota help child care providers and center staff fulfill basic training requirements for licensing and advance their professionalism by earning their Child Development Associate Credential (CDA) or other advanced credentials.
Training opportunities including on-line training options, conferences and courses for caregivers, teachers and administrators

Curriculum planning & activities Child Care Aware&reg early childhood consultants help child care providers develop curriculum and activities that capture children's in terest and foster learning.
Partner with communities to address child care needs
The quality and availability of child care impacts economic development and the state's education system. Child Care Aware&reg partners with communities to implement strategies that address child care challenges and build capacity.